What is Mailchain?
Mailchain is a communication layer for Web3 that enables crypto-native communication. It consists of an open-source protocol for sending encrypted messages between blockchain wallet addresses and a user-friendly inbox application.
With Mailchain, users can communicate using their Web3 identities, ensuring end-to-end encryption and verified sender origin.
Send messages to .avax domains
Using Mailchain, you can send mail to properly configured .avax domains, enabling & simplifying communication with your web3 contacts.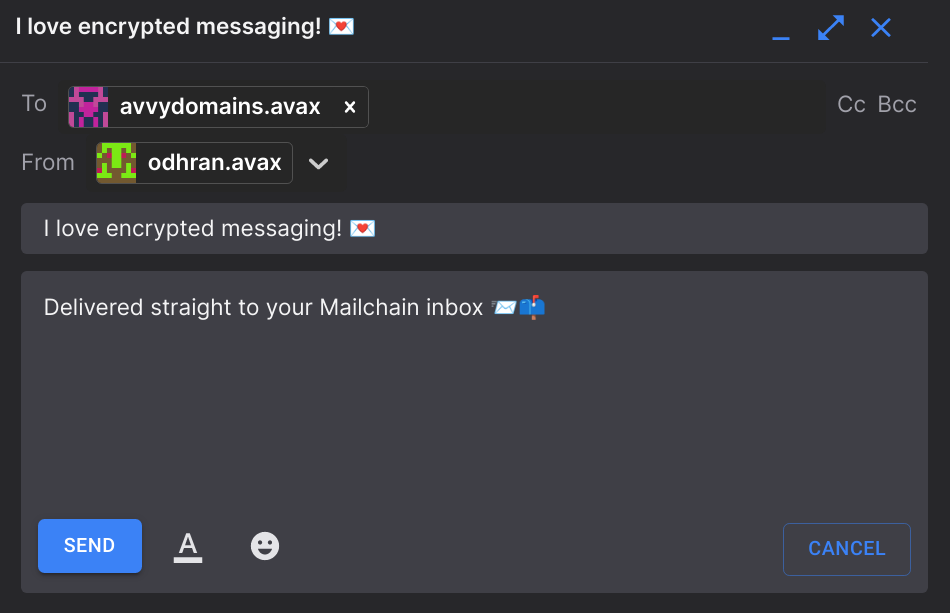 Mailchain messages are delivered to a mailbox accessible with your wallet's private key.
Configure your .avax domain with Mailchain by:
Setting up your .avax domain to forward & reverse resolve to an 0x address you control.
Connecting that 0x address to your Mailchain account.
Learn how to send mail using your .avax 🔗
Renewal notifications for expiring domains
Your .avax domains are registered on a yearly basis and can expire. Shortly after expiration, anyone can register a domain and transfer it from your wallet.
We are now sending out renewal reminders on Mailchain to the current registrant of a domain as it approaches expiration. Set up an account on Mailchain and connect your wallet to receive renewal reminders!
Set up your Mailchain account 🔗

Learn about Expiring Domains 🔗